Florida Everglades
Marco Island FL Ten Thousand Islands Everglades US National Park
The Everglades is an area of marshland in the southern region of Florida. Florida Everglades northern border is Lake Okeechobee and extends south to empty into Florida Bay. A part of the everglades was protected from development and turned into a national park in the 1930s. Ask us about the Florida Everglades or share Everglades adventures, and reviews. To feature your business, contact us.
Everglades National Park – Florida


Capt. Phil DeVille – 10,000 Islands Backwaters - Everglades National Park Fishing Tours, Port of the Islands, Naples, FL | 239-293-5480
Share Captain Phil's passion for the Ten Thousand Islands - Florida Everglades charter fishing trips. Fish for Snook, Red Fish, Trout, Snapper, Flounder and more from a 17' Mitzi Skiff Flats Boatfish. Over 15 varieties of edible fish and great sport fishing. Up to 189 species of birds may be seen in a single trip. View alligators, crocodiles, osprey, eagles, dolphin, and manatee.
Visit Capt. Phil DeVille's Website
---


Double R's Fishing & Tours Co. - 25000 Tamiami Trail East - Port of the Islands, Naples, FL 34114-9602 | 239-642-9779
Experience some of the best charter fishing south Florida has to offer. Our captains have 30+ years of experience to help make your Naples / Marco Island fishing trip one to remember. Fishing in an estuary is a unique esperience! You'll fish for Snook, Red Snapper, Drum Tarpon, Trout, Tripletail, Shark, Grouper, or Pompano. These are just a few of the many species in the 10,000 Islands.
Visit Double R's Fishing
---

Outgoing Charters - Captain Jesse Hill, Everglades City, Chokoloskee, Port of the Islands, FL | 239-825-6283
At Outgoing Charters the customer comes first. Whether it's family fun or hardcore fishing, Captain Jesse Hill is a 4th generation native guide who will cater to your specific wants and needs. Light tackle, back country fishing in
Everglades National Park
and the 10,000 Islands. Fish for redfish, snook and more. You'll enjoy a comfortable boat with quality gear. Captain Jesse's ultimate goal is to exceed your expectations.
Visit Capt. Jesse Hill Everglades Fishing
---


Island Hopper Boat Rentals and Tours, 525 Newport Dr., Naples, FL 34114 | 239-961-2473
Guided boat tours leaving Port of the Islands Marina, Naples, Florida Touring the Everglades and the Ten Thousand Islands area. Rent a pontoon for a full day of fun. Whitehorse Key is a great place to beach your boat and find amazing shells. Walk the island, explore the 10,000 islands, and enjoy a great view of the Gulf of Mexico. Look for manatee, dolphin, alligators and everything the Everglades has to offer. See the 10,000 islands up close.
Visit Island Hopper Boat Rental & Tours - Naples, FL
---
Everglades National Park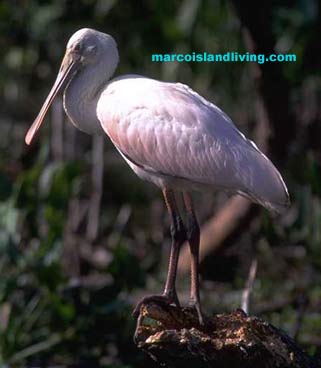 Everglades National Park is working to preserve the southern portion of the everglades, south of the Tamiami Trail. The Everglades National Park is around 1.5 million acres although this is only about 20% of the original wetland area. Highway access to the central portion of the Everglades National Park is limited to Florida State Road 9336.
It was on May 30, 1934, that the now Everglades National Park area was authorized as a national park. The Everglades National Park was fully
established on December 6, 1947. Everglades National Park was listed as a UNESCO World Heritage Site on October 24, 1979. The Everglades are popular US Travel Destination. Read about having the perfect Florida Everglades Vacation.
There are many species currently in the Everglades National Park. Some of them are native while others are not. There are plants, animals, reptiles and birds. Some of the native plants include live oak, wild lemon, wild orange, cucumber, pawpaw, custard-apple, and wild rubber trees. The melaleuca tree, which is not native to the everglades, is a thirsty tree. Its seeds were originally meant to soak up water to make the everglades ready for development. It has since become an issue. Its natural oils and tendency to soak in moisture increase the chance of wildfires. The Brazilian Pepper, or Florida Holly, is another non-native species that has been causing trouble and is rather difficult to exterminate. This plant spreads fast and crowds out native species. Birds also eat the plant's small red berries and this, of course, helps the Brazilian pepper to spread even farther.
There is also an abundance of animal life in the everglades. The wading bird population is of particular interest to both tourists and those studying the everglades. One characteristic that all wading birds have in common is long legs that are used to wade into the water to catch their food; hence the term, wading birds. Currently living in the everglades are sixteen different species and they all have a different method for catching their food. One of the major problems that the wading birds have is that the natural water flow of the everglades has been disrupted due largely to development. This, along with the plume hunters, has caused several of them to become endangered. In the 1930s about 250,000 wading birds nested in Florida. By 1990 scientists approximated that the population had dropped to 2,200 living in Everglades National Park. Scientists are currently studying the everglades trying to restore the natural flow of the wetlands in the hopes that it will help to restore the wading bird population as well as help the other wildlife affected. Some of the wading birds currently living in Everglades National Park include the white ibis, wood stork, various types of herons and egrets, as well as the Caribbean flamingo.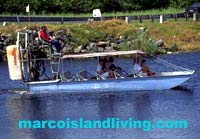 Land birds and birds of prey also live in the everglades. The land birds are mostly migratory living north or south of the everglades and stopping in as food and weather mandates. The birds of prey that reside in the everglades include the red-shouldered hawk, barred owl, eagle, and osprey.
Other animals living in Everglades National Park include: otter, alligator, crocodile, deer, bobcat and bear. The park is also home to many endangered species, including: the Florida Panther, West Indian Manatee, Schaus Swallowtail Butterfly, Wood Stork, Snail Kite, Leatherback Turtle and many more.
Recently giant python snakes have been captured in the 'glades. There have been more than 600 pythons, some measuring 15 feet long, captured in the everglades. The python is a non-native species capable of killing alligators, endangered birds, deer, and domestic animals.
Include Me shortcode: file not found
VIEW A VINTAGE EVERGLADES VIDEO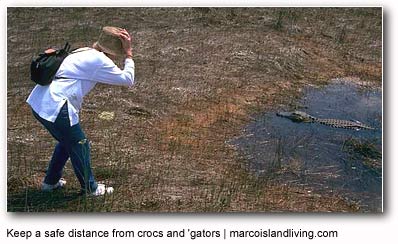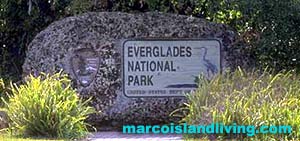 Contact Us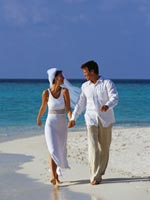 Marco Island Weddings


Fun | Dining | Eco Tours | Fishing

Real Estate | Rentals

Resorts | Pet Friendly