Sea Turtles on Marco Island
Marco Island FL Everglades Wildlife Green Sea Turtles Loggerheads, Leatherbacks
Marco Island and the Ten Thousand Island region of the Florida Everglades is home to sea turtles. These large reptiles nest in the sandy beaches along the south Florida Gulf Coast. Among the largest of living reptiles, sea turtles have scales and a bony shell, are cold-blooded, breathe air, and lay their eggs on land. Although it is illegal to hunt sea turtles in most countries, they continue to be harvested for food and are considered a delicacy in many parts of the world. Sea turtles play a key role in the Gulf Coast's fragile ecosystem.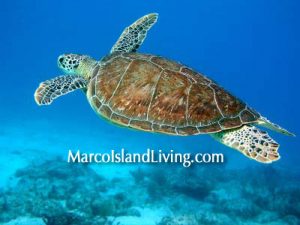 Sea turtles and manatee are the only creatures in the world to eat the sea grass which grows on the ocean floor. Sea turtles are vulnerable to oil pollution because of their tendency to float upon the ocean surface. In 2012, there were nearly 4000 sea turtle hatchlings on Marco Island – an increase of more than 1,000 from the previous season. Most of the 2012 sea turtle nests were on Sand Dollar, near Tiger Tail Beach. The remainder were located on the main beach and Hideaway Beach. Share your Marco Island – Naples FL reviews or ask us about visiting Marco Island Florida. To feature your business, contact us.
Marco Island – Naples SW FL Sea Turtles


Sunshine Tours and Charters, Rose Marina, 951 Bald Eagle Dr., Marco Island FL | 239-642-5415
Sunshine Tours offers the best in Offshore, Back Country and Near Coastal Fishing, Island Shelling and Sightseeing aboard one of our four fishing boats. Since 1984, Sunshine Tours has provide unsurpassed on-the-water experiences for locals and visitors alike. Shared and private fishing charters available.
Visit Sunshine Tours Marco Island
---


Dolphin Study Eco Tours and Cruise, 951 Bald Eagle Drive Marco Island, FL 34145 | 239-642-6899
Get to know our local dolphins on a Marco Island dolphin cruise. The 10,000 Islands Dolphin Project is a long-term study of the abundance, distribution, movement, association patterns, and behavior of bottlenose dolphins of Southwest Florida. Join us.
Book a Dolphin Explorer Cruise
---


Island Hopper Boat Rentals and Tours, 525 Newport Dr., Naples, FL 34114 | 239-961-2473
Guided boat tours leaving Port of the Islands Marina, Naples, Florida Touring the Everglades and the Ten Thousand Islands area. Rent a pontoon for a full day of fun. Whitehorse Key is a great place to beach your boat and find amazing shells. Walk the island, explore the 10,000 islands, and enjoy a great view of the Gulf of Mexico. Look for manatee, dolphin, alligators and everything the Everglades has to offer. See the 10,000 islands up close.
Visit Island Hopper Boat Rental & Tours - Naples, FL
---
Sea Turtles – An Endangered Species
There are six species of sea turtle found either in U.S. waters or nesting on U.S. beaches. All are designated as either threatened or endangered. Sea turtles inhabit every ocean on earth except the Arctic Ocean.
How Long Do Sea Turtles Live?
No one knows for sure. According the US Fish and Wildlife Service, scientists are uncertain how long they live because there is no known way to determine their age.
Sea turtles spend almost their entire lives in the sea. Sea turtles are excellent swimmers, gliding gracefully through the water with flipper-like forelimbs and a streamlined shell. Sea turtles frequently come to the surface to breathe when active, but they can remain underwater for several hours when resting. Sea turtles are always on the move and travel hundreds of miles across ocean waters.
Sea Turtle Species
The six sea turtle species in the United States are; Loggerhead, Green turtle, Leatherback turtle, Hawksbill turtle, and the Olive Ridley sea turtle.
Marco Island Living encourages you to share your sea turtle photos with us. If you encounter sea turtles on the beach or in the ocean try to not disturb them. Sea turtles are protected by both federal and local ordinances. You may contact the agencies listed below to help protect or find out more information about sea turtles.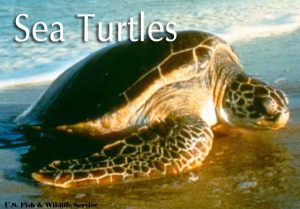 For more information on the Fish and Wildlife Service's sea/marine turtle programs:National Sea Turtle Coordinator
U.S. Fish and Wildlife Service
7915 Baymeadows Way, Suite 200
Jacksonville, Florida 32256
Ph: 904-731-3336
Email: seaturtle @ fws.govProgram Officer, Marine Turtle Conservation Fund
Division of International Conservation
U.S. Fish and Wildlife Service
4401 N. Fairfax Drive, MS100
Arlington, VA 22203
Ph: 703-358-2277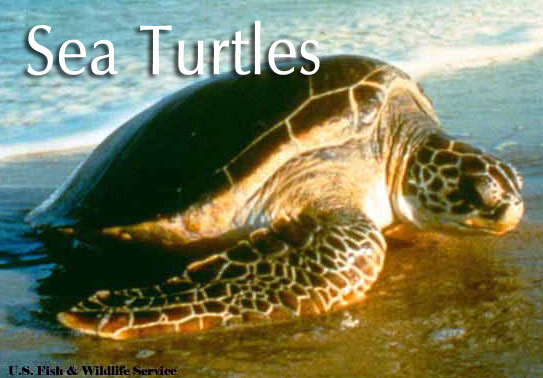 Contact Us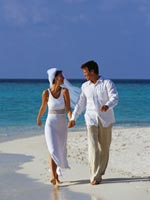 Marco Island Weddings


Fun | Dining | Eco Tours | Fishing

Real Estate | Rentals

Resorts | Pet Friendly