Florida Crocodiles & Alligators
Marco Island Florida Wildlife Photography Preservers Information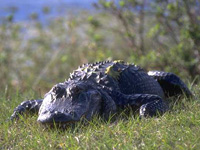 While there is a remnant population of American crocodiles in Florida they mostly live in Central and South America. Other crocodiles in the Americas include the Orinoco crocodile in the northern regions of South America, as well as the Cuban crocodile which now resides solely in certain parts of Cuba although they once existed throughout the Caribbean. There are some key differences between crocodiles and alligators. An alligator has a wider snout than a crocodile and it's lower teeth do not protrude as a crocodiles do when their mouth is closed. Also, alligators and crocodiles are different in color; while alligators are black, crocodiles are a brown or green color.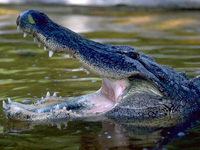 The American alligator is native to North America. Their habitat ranges from North Carolina to the southern tip of Florida and west into Texas. They live in freshwater ponds, rivers and swamps although they have been known to venture outside those areas. The American alligator has been around since dinosaurs walked the earth. Nearly hunted into extinction for their leather-like hide in the 1800s, alligators are now an endangered species.
Alligators play an important role in the life of the wetlands. They are very helpful in population control as they eat everything from fish and rodents to deer and bear. The size of an alligator will, of course, depend on what it eats. As an alligator grows it will hunt larger prey.
Alligators also create what are known as gator holes. These holes range in size depending upon the size of the alligator and how much space is desired. These holes are often made with a hidden chamber under a bank. The alligator creates these gator holes in order to survive droughts as well as the dry and winter seasons. They also help other creatures such as fish, insects, turtles and birds to survive those same seasons.
As more of their natural habitat is being developed alligators are venturing more often into urban areas. This causes them to become an annoyance. It is against the law to feed alligators. Feeding alligators causes them to lose their fear of humans, thus becoming a more dangerous threat. Ask us about Birds on Marco Island or share birding comments. To feature your business, contact us.
Crocodiles & Alligators: Everglades Wildlife Photos


Southwest Florida Hotel Reservations
Visit Southwest Florida. We found Naples and Marco Island Hotel Deals available for a limited time at some of the best hotels in southwest Florida. Play on the Gulf Coast sand beaches or take in a round of golf at a great Naples Golf Resort.
Naples Marco Island FL Hotel Deals
---


Double R's Fishing & Tours Co. - 25000 Tamiami Trail East - Port of the Islands, Naples, FL 34114-9602 | 239-642-9779
Explore the natural habitat and wildlife eco-system of the south Florida Everglades. Our two and a half hour eco-nature tour starts in the heart of the Everglades where you will see manatee, then takes us out into the middle of the estuaries of the 10,000 Island to observe the Everglades wildlife.
Visit Double R's Fishing & Tours
---

Sunshine Tours and Charters, Rose Marina, 951 Bald Eagle Dr., Marco Island FL | 239-642-5415
Sunshine Tours offers the best in Offshore, Back Country and Near Coastal Fishing, Island Shelling and Sightseeing aboard one of our four fishing boats. Since 1984, Sunshine Tours has provide unsurpassed on-the-water experiences for locals and visitors alike. Shared and private fishing charters available.
Visit Sunshine Tours Marco Island
---


Dolphin Study Eco Tours and Cruise, 951 Bald Eagle Drive Marco Island, FL 34145 | 239-642-6899
Get to know our local dolphins on a Marco Island dolphin cruise. The 10,000 Islands Dolphin Project is a long-term study of the abundance, distribution, movement, association patterns, and behavior of bottlenose dolphins of Southwest Florida. Join us.
Book a Dolphin Explorer Cruise
---
VIEW A VINTAGE ALLIGATOR VIDEO
FLORIDA WILDLIFE
birds | crocs & gators | fish | panthers | manatees | pythons | gopher tortoise


Contact Us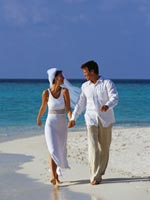 Marco Island Weddings


Fun | Dining | Tours | Fishing

Real Estate | Rentals

Resorts | Pet Friendly