Marco Island SW Florida Wave Running
Marco Island FL Wave Running Tours Jet Skiing Jet Ski Rentals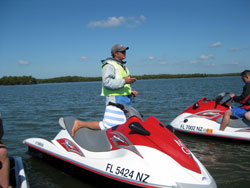 When you think of beach fun on Marco Island you may think of shelling, walking, jogging and playing in the waves.  However, we discovered a bit of a wilder side to Marco Island – taking a wave runner tour through some of the 10,000 islands. Share your Marco Island – Naples FL waverunner reviews or ask us about visiting Marco Island Florida. To feature your business, contact us.
Marco Island – Naples SW FL Wave Running Adventure Tours


Sunshine Tours and Charters, Rose Marina, 951 Bald Eagle Dr., Marco Island FL | 239-642-5415
Sunshine Tours offers the best in Offshore, Back Country and Near Coastal Fishing, Island Shelling and Sightseeing aboard one of our four fishing boats. Since 1984, Sunshine Tours has provided unsurpassed on-the-water experiences for locals and visitors alike. Shared and private charters available.
Visit Sunshine Tours Marco Island
---


Marco Island Princess / Sunshine Tours, Rose Marina, 951 Bald Eagle Dr., Marco Island FL 34145 | 239-642-5415
The Marco Island Princess is a 90' luxury yacht offering daily Sightseeing, Lunch and Sunset dinner Cruises. enjoy delicious meals, two cash bars and a great view. Also available for Weddings and Private Charters. Marco Island's most unique dining experience!
Visit Marco Island Princess
---


Black Pearl Pirate Tours, 951 Bald Eagle Dr., Marco Island, Florida 34145 | 239-404-5422
Welcome aboard! Black Pearl Pirate Ship Cruises - Marco Island Private Charters, Sunset Cruises, Interactive Adventures. Join the fun on the Gulf of Mexico and let your pirate out with the whole family. We offer a variety of fantastic boating experiences in Marco Island, FL, including interactive pirate-themed tours, sunset cruises, and even private charters for birthdays, weddings, business, or any other event you may have. Join us for an Awesome Adventure on the water.
Visit Black Pearl Pirate Tours Marco Island
---


Marco Island Civic Association, 1770 San Marco Rd. #204 Marco Island, Florida 34145 | 239-642-7778
Gain access to the most beautiful beach on Marco Island. If you own improved property or rent on Marco Island for one month or longer, you are eligible to join Residents' Beach! The Marco Island Civic Association (MICA) is the oldest and largest civic group on Marco Island, Florida, contact us for more information.
Visit Marco Island Civic Association Website
---


Dolphin Study Eco Tours and Cruise, 951 Bald Eagle Drive Marco Island, FL 34145 | 239-642-6899
Get to know our local dolphins on a Marco Island dolphin cruise. The 10,000 Islands Dolphin Project is a long-term study of the abundance, distribution, movement, association patterns, and behavior of bottlenose dolphins of Southwest Florida. Join us.
Book a Dolphin Explorer Cruise
---


Island Hopper Boat Rentals and Tours, 525 Newport Dr., Naples, FL 34114 | 239-961-2473
Guided boat tours leaving Port of the Islands Marina, Naples, Florida Touring the Everglades and the Ten Thousand Islands area. Rent a pontoon for a full day of fun. Whitehorse Key is a great place to beach your boat and find amazing shells. Walk the island, explore the 10,000 islands, and enjoy a great view of the Gulf of Mexico. Look for manatee, dolphin, alligators and everything the Everglades has to offer. See the 10,000 islands up close.
Visit Island Hopper Boat Rental & Tours - Naples, FL
---
What a great experience!  We met with our guide about 30 minutes prior to the tour.  They provided wind jackets (pants too, if needed) and life vests.  The runners (they look like snowmobiles for the water) are perfect for two, so families can also enjoy them.  The maximum speed allowed is 40 miles per hour and you are briefed on how to operate them.
Once we were all set, the group took turns heading out into the waves.   Of course we had to go out first. Once there we headed south in a single line around the end of the island near Cape Marco Condo units and into the island.   What a fabulous time we had. Although the morning was in the mid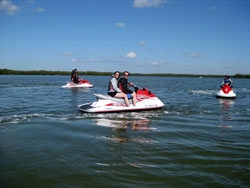 sixties, the sun kept us quite warm.  The spray is minimal so you stay quite comfortable.  Bathing suits are fine and I choose to slip a jacket over my suit, just to make sure.  Cameras and valuables can be stored in a waterproof compartment and, as you can see in the photos, these wave runners are fun!
We were able to enjoy the open ocean, the plant life and the mangroves from a different perspective.  The high point of the hour and a half tour was the dolphins.  We stopped as they approached us and they swam all around us.  We could hear them breathing as they came up for air.  This is wildlife at its best. The dolphins surfaced, as they do when eating, and frolicked all around our group.  Seeing them from shore is exciting, but being up close and personal is thrilling.
Looking to take a tour?  When at the beaches of Marco, there are several tiki huts near the larger hotels.  These are the places to go to either rent a wave runner or sign up for the tour.  We recommend the tour, as when you rent the runner you are limited in the area that you are allowed to go.  With the tour you follow the guide and travel several miles.  Prices are reasonable for beach entertainment.  There are age restrictions for the drivers as well.   Please check with the rental places for exact information.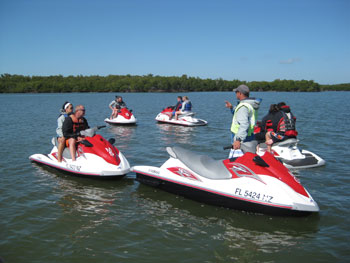 Marco Island Wave Runner Tours