Goodland Florida Vacations
Goodland FL Nightlife Dining Travel Real Estate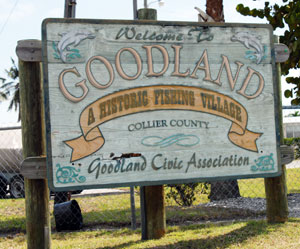 The tiny and lively community of Goodland, Florida is located off Florida State Road 92 at the southeast corner of Marco Island. Historic Goodland, offers visitors a laid back charm unlike any other place in the region. Goodland is an old Florida fishing village – once home to the Calusa Indians. The waters around Goodland are prime fishing for many species. Today, Goodland is a naturalists paradise. There are no commercial hotels on Goodland. Goodland vacation lodging is available from local cottage and condomineum owners.


Mangrove Charters and Rentals, PO Box 12, Goodland, FL 34140 | 1-518-929-5194
Clean, comfortable Olde Florida vacations in sunny Goodland. Enjoy a slice of paradise in this south Florida rental cottage. This waterfront vacation cottage is perfectly maintained and the location is great. Only 15 minutes to Tigertail beach, walking distance to restaurants, marina, nightclubs, park, fish market. Goodland is a one of a kind place to visit. View photos and check availability.
Visit Goodland FL Vacation Rental Website
---


Salt Life Transportation® | 239-308-8686
Salt Life Transportation provides local airport car service for up to six people to any airport within a 200 mile radius of Southwest Florida - all airport rates include a small gratuity. Certified drivers, and luxurious vehicle for a night out on the town, shopping or appointments. Local service on Marco Island Mon-Thu 5 pm - 1 am, Fri & Sat 5 pm - 3 am. Sunday fun day in Goodland to and from Marco Island, Isles of Capri, Port of the Islands, and Naples half-price fares. Complimentary rides to 32 bars and restaurants, call for details.
Visit Salt Life Transportation Website
---
Goodland FL History
Johnny Roberts is believed to have founded Goodland in the late 1800's. He named it Goodland Point because it featured a 40-acre shell mound left by the Calusa Indians that was ideal for growing fruit and vegetables. It was also a great location to fish. Roberts would later sell his squatter's rights to Samuel Alexander Pettit, around 1890. Goodland's isolation remained virtually intact until 1938 when State Road 92 was completed and a swing bridge installed. It was during that time period that Pettit's son Harry single-handedly built the winding Goodland road to the state road intersection using shells from the Calusa mounds. By 1949,  Goodland would forever change with the arrival of families from nearby Caxambas. Marco Island Developers moved the families to Goodland in a failed attempt to develop the island.  On January 4, 1964, the historic Marco Lodge was moved from Old Marco to Goodland.


Goodland Florida Everglades Hotel Reservations
Visit the south Florida fishing village of Goodland for your Gulf Coast USA Vacation. We found Naples, Marco Island, Goodland area Hotel Deals available for a limited time. See the Florida Everglades, take a Eco-Tour to view wildlife, fish the backwaters of the 10,000 Islands. Play on the Gulf Coast white sand beaches.
Goodland, FL Lodging Specials
---
Today, Goodland, FL remains predominately a fishing and entertainment community of about 400 full-time residents. The fishing captains fetch local seafood from the Gulf of Mexico,  dolphins break the surf and live, original music emanates from the local restaurants. Today, Goodland is home to the annual Goodland Mullet Festival – held every winter at Stan's Idle Hour. Stan's is the oldest family operated restaurant in the area, owned by the Gober Family since 1969. Stan's Idle Hour, Marco Island Lodge Crab House, and the nearby Little Bar Restaurant serve lunch and dinner. The Little Bar Restaurant offers live entertainment in the cozy lounge most evenings. Local seafood may still be purchased "just of the boat" at Kirk Fish Company on Papaya Street.
Share your Goodland, FL reviews or ask us about visiting Goodland in Southwest Florida. To feature your business, contact us.


Contact Us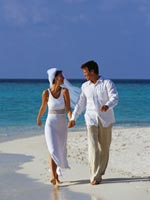 Marco Island Weddings


Fun | Dining | Tours | Fishing

Real Estate | Rentals

Resorts | Pet Friendly