Arturo's Restaurant
Fine Italian Dining on Marco Island – Southwest Florida Restaurant Dining Review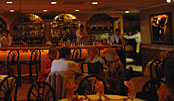 If you are ready to indulge yourself in outstanding mouthwatering Italian food, Arturo's on Marco Island is definitely your destination. Arturo's awning and logo stating "The Art of Fine Italian Food & Fun" says it all. Having master the "Art" of Italian food in New York and Italy, Arturo moved to Marco Island, where he met his partner Judy. Their friendship developed into a mutual respect and a strong foundation for dreaming, ultimately ending with the fabulously successful Arturo's. Ask us about Marco Island – Naples FL restaurants or share reviews. To feature your FL Restaurant, contact us.
Marco Island Dining: Arturo's Restaurant

On to appetizers: we shared an order of baked whole middle neck clams. There were certainly enough for a great start to our meal. And they were just outstanding. Delicately baked with breadcrumbs, garlic and oregano, the clams were spotlighted – not covered up. Fresh baked bread accompanied our crisp salads. The Caesar was flavorful without being overly salty, the house salad with house dressing was also extremely fresh, crisp and the perfect size. Do remember, however, that I love to eat.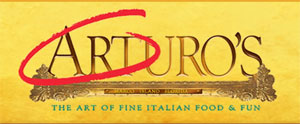 The special for the evening was tempting. Arturo's house specialty is a stuffed pork chop that sounded unbelievable. However, we elected to go a bit more traditional – just to see how the regular menu and Italian specialties would hold up. I was totally traditional with Spaghetti a la Bolognese. This beef and veal meat sauce has traditional written all over it and Arturo and his staff can do traditional!!!! I also enjoyed Bolognese for lunch the next day. The serving was huge, nice to see in this economy. My partner selected Shrimp Francais, this is shrimp dipped in egg and sautéed with lemon, butter, garlic and white wine. This is then served over Linguini. We also had Shrimp for lunch the next day.
Despite the fact that you may indeed have eaten some of the best Italian food you can get on the Island you must try desert. We shared Tiramisu, which they tell me is Italian for "Lift Me Gently". This new classic, of delicate ladyfingers drenched in espresso and layered with Marscapone cheese, is topped with shaved chocolate. This was definitely enough for the average person to share. There is no lifting me gently after all this food, but it is worth it. My partner had an old favorite, Spumoni. A Cherry, Chocolate and Pistachio swirled ice cream drizzled with hot chocolate sauce.
Arturo's Restaurant
844 Bald Eagle Drive
Marco Island, FL 34145
Ph: 239-642-0550 | Arturo'sMarcoIsland.com


DaVinci's Ristorante, 599 S. Collier Blvd. #215, Marco Island, FL 34145 | 239-389-1888
A heart-warming, family ambiance offers you the best authentic Italian Cuisine. Open for Lunch and Dinner. Private room for your special event. The only wood-burning pizza oven in Marco. Our local DJ plays great music every Friday and Saturday night.
Visit Website
---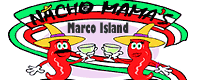 Nacho Mama's , 599 S. Collier Blvd., Marco Island, FL 34145 | 239-389-2222
Nacho Mama's - a favorite place for a great meal and a fun time. Nacho Mama's is a family owned restaurant serving Tex-Mex and American fare. Nacho Mama's is a recipient of the prestigious Platinum Plate Award for best Mexican Cuisine. Specialities include- Sizzling Fajitas, Nachos Grande, Baja Fish tacos, fresh chicken sandwiches, fresh salads, and one of the best burgers on the island. Full liquor bar and ice cold Cerveza. 5 large screen TV's, Happy Hour Specials.
Visit Website
---

Marco Island Princess / Sunshine Tours, Rose Marina, 951 Bald Eagle Dr., Marco Island FL 34145 | 239-642-5415
The Marco Island Princess is a 90' luxury yacht offering daily Sightseeing, Lunch and Sunset dinner Cruises. enjoy delicious meals, two cash bars and a great view. Also available for Weddings and Private Charters. Marco Island's most unique dining experience!
Visit Website
---


Sand Bar, 826 E. Elkcam Circle (Behind Walker's Marine), Marco Island, FL 34145 | 239-642-3625
The Sand Bar is open 365 days a year from 7am – 2am. Full breakfast menu from 7am-11am, from 11am on we feature appetizers, soups, salads, sandwiches, awesome entrees and seafood. We are famous for our Fingers and Toes (aka fish and chips) as well as our Wings. Celebrating over 30 years on Marco! More than 40 Big Screen TV's with all your favorite sports.
Visit Website
---


Cafe de Marco, 244 Royal Palm Drive, Marco Island, FL 34145 | 239-394-6262
Let us assist you in creating a memorable experience at the longest running "owner operated" restaurant on the island. Since 1983, Cafe de Marco has been welcoming back visitors and locals alike by serving the finest in fresh seafood and other continental specialties. Winner of: Best Seafood on Marco, our award winning signature dish: The jumbo Prawns are not to be missed!
Visit Website
---


Joey's Pizza and Pasta, 257 North Collier Blvd., Marco Island FL 34145 | 239-389-2433
Family owned and operated since 1997. Joey's offers quality Italian Cuisine and great service. All of our dishes, pizzas, and deserts are made from the finest and freshest ingredients and, best of all, homemade family recipes. Indoor / outdoor seating, full bar, on-island delivery, catering, open 7 days.
Visit Joey's Website
---


Doreen's Cup of Joe, 267 North Collier Blvd., Marco Island FL 34145 | 239-394-2600
We strive to provide the best possible breakfast experience. We only use Eggland's Best Cage Free Brown Eggs, Sausage Patties are all-natural, no preservatives, our syrup is Pure Maple Vermont Syrup, Milk products are from a local farm in Myakka City, Florida, our Kana Coffee is from a local roaster in Miami, and our Orange Juice is made from Fresh Squeezed Florida Oranges.
Visit Website
---


Sydney's Pub at Tiburon Golf Club at The Ritz-Carlton, Naples, FL | 239-593-2200
Sydney's Pub is the signature restaurant located, on the upstairs level, of the Tiburón clubhouse. Sydney's is the perfect setting for casual dining or for relaxing with friends in the lounge or bar terrace. Featuring a full bar and wine list Sydney's offers soups, salads, sandwiches and pub fare. Events and catering are also available at Sydney's. Ask about our private club house rooms.
Sydney's Pub at Tiburon Golf Club at the Ritz Carlton Naples
---

Marco Vacation Rentals | Marco Island Restaurants | Florida Dining Reviews

Marco Island Realtors | Marco Island Fishing | Marco Resorts
South Florida Attractions | Events | Travel Info | Community
Hotels | Resorts | Vacation Rentals | Real Estate | Dining
Attractions | History | Weather | Shelling | Beaches | Golfing
Isles of Capri | Naples | Everglades | Photos | Shopping
Art Galleries | Tamiami Trail | Maps | Classified Ads

Contact Us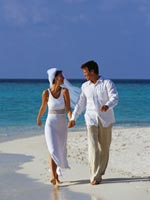 Marco Island Weddings




Attractions | Dining | Eco-Tours | Fishing

Real Estate | Rental Homes | Resorts | Pet Friendly Lodging