South Beach Marco Island
Southwest Florida Beach Information – South Beach Marco Island
Cape Marco – on the southern tip of Marco Island beach is where you will find South Beach. Marco Island is the largest of the Barrier Island and features six miles of beautiful white-sand beach.
The South Beach Marco Island beach access is located on South Collier Blvd near Swallow Avenue. During the busy times of the season (primarily Jan – Mar) the public parking lot can fill quickly resulting in a line of vehicles waiting to access the sold-out parking lot. If you can bicycle or walk to the South Beach public access. No bikes on the beach but there is a place to park your bicycles just before entering South Beach. The short walk under a palm tree-lined, stone walkway that leads to South Beach provides a tranquil transition to what you are about to witness.
Just to the right of the walkway is the Apollo Resort Condominium. Do not park at the Apollo, use the parking lot located off of Swallow Avenue. There is a small fee unless you have a Collier County Florida Beach Pass on your vehicle.
Arrive early to increase your chance of finding a parking space. The Apollo does have a beachfront bar you may visit. The bar also serves food. You can access the Sunset Grille at the Apollo from the beach, use the walkway leading to the indoor/outdoor bar. DEA is the theme there, meaning Drink Every Afternoon.
During the busy times of the season (primarily Jan – Mar) the public parking lot can fill quickly and sell-out. Follow the links below for more information about Marco Island Southwest Florida Beaches. Ask us about Marco-Naples SW FL Beaches or share your Marco Island – Naples FL reviews. To feature your Fl business, contact us.
SW FL Beaches:South Beach Marco Island FL


Sunshine Tours and Charters, Rose Marina, 951 Bald Eagle Dr., Marco Island FL | 239-642-5415
Sunshine Tours offers the best in Offshore, Back Country and Near Coastal Fishing, Island Shelling and Sightseeing aboard one of our four fishing boats. Since 1984, Sunshine Tours has provided unsurpassed on-the-water experiences for locals and visitors alike. Shared and private charters available.
Visit Sunshine Tours Marco Island
---


Marco Island Princess / Sunshine Tours, Rose Marina, 951 Bald Eagle Dr., Marco Island FL 34145 | 239-642-5415
The Marco Island Princess is a 90' luxury yacht offering daily Sightseeing, Lunch and Sunset dinner Cruises. enjoy delicious meals, two cash bars and a great view. Also available for Weddings and Private Charters. Marco Island's most unique dining experience!
Visit Marco Island Princess
---


Black Pearl Pirate Tours, 951 Bald Eagle Dr., Marco Island, Florida 34145 | 239-404-5422
Welcome aboard! Black Pearl Pirate Ship Cruises - Marco Island Private Charters, Sunset Cruises, Interactive Adventures. Join the fun on the Gulf of Mexico and let your pirate out with the whole family. We offer a variety of fantastic boating experiences in Marco Island, FL, including interactive pirate-themed tours, sunset cruises, and even private charters for birthdays, weddings, business, or any other event you may have. Join us for an Awesome Adventure on the water.
Visit Black Pearl Pirate Tours Marco Island
---


Marco Island Civic Association, 1770 San Marco Rd. #204 Marco Island, Florida 34145 | 239-642-7778
Gain access to the most beautiful beach on Marco Island. If you own improved property or rent on Marco Island for one month or longer, you are eligible to join ResideThe Marco Island Civic Association (MICA) is the oldest and largest civic group on Marco Island, Florida, contact us for more information.
Visit Marco Island Civic Association Website
---


Dolphin Study Eco Tours and Cruise, 951 Bald Eagle Drive Marco Island, FL 34145 | 239-642-6899
Get to know our local dolphins on a Marco Island dolphin cruise. The 10,000 Islands Dolphin Project is a long-term study of the abundance, distribution, movement, association patterns, and behavior of bottlenose dolphins of Southwest Florida. Join us.
Book a Dolphin Explorer Cruise
---


Island Hopper Boat Rentals and Tours, 525 Newport Dr., Naples, FL 34114 | 239-961-2473
Guided boat tours leaving Port of the Islands Marina, Naples, Florida Touring the Everglades and the Ten Thousand Islands area. Rent a pontoon for a full day of fun. Whitehorse Key is a great place to beach your boat and find amazing shells. Walk the island, explore the 10,000 islands, and enjoy a great view of the Gulf of Mexico. Look for manatee, dolphin, alligators and everything the Everglades has to offer. See the 10,000 islands up close.
Visit Island Hopper Boat Rental & Tours - Naples, FL
---


Avi's Water Sports Jet Ski Adventure Tours, Caxambas Park, 909 Collier Ct., Marco Island, FL 34145 | 239-777-9873
Avi's is a family-owned business that offers some of the most exciting dolphin jet ski tours and jet ski rental adventures on Marco Island. You are invited to take an exciting journey with Avi "The Dolphin Whisperer" and take home a complimentary flash drive of photos from your adventure. Bring the family and make lasting memories. Contact us to book your dolphin Jet Ski tour.
Avi's Water Sports & Jet Ski Adventure Tours - Marco Island, FL
---


Island Bike Shops (2 Locations) 1095 Bald Eagle Dr., Marco Island, FL 34145 | 239-394-8400 & 4342 Thomasson Dr., Naples, FL 34112 | 239-732-8400
At Island Bike Shops we make your visit fun. Reserve your rental online. Check our selection of bicycle rentals, electric bikes, motor scooters, trailers, and more. Naples Bicycle Tours provides a unique opportunity for residents and visitors to experience the diversity of Southwest Florida. Our large or small group bicycle tours can accommodate all cycling levels as we personally escort you through Naples, Historic Old Naples, Marco Island, or the Natural Everglades.
Visit Island Bike Shops - Marco Island & Naples
---

Tigertail Beach
168 Royal Palm Drive
Marco Island, FL 34145
Residents' Beach
30 South Collier Blvd.
Marco Island, Fl 34113
This beach is private for Marco Island residents only. Visitors of 30 days or longer may apply for a Residents Beach pass.
South Beach
South Collier at Swallow Drive
Marco Island, FL 34145
There is a parking lot that requires a Collier County Beach Pass located on Swallow Drive near the walkway to South Beach.
What's the joy of an island without beaches? Marco Island in southwest Florida has some wonderful beaches with beautiful views of the Gulf of Mexico. After all, it's Marco beaches that make magic. Marco Island – the largest of the Ten Thousand Islands – features a magnificent shoreline that stretches from Tigertail to South Beach. Enjoy miles of clean, uncrowded beaches of white sand and famous Marco sunsets. Marco Island Beaches are world famous – one visit here and you will understand why. Marco Island's crescent-shaped beach extends the entire length of the western side of the island. The "Marco Flash" is the flash of deep blue or green light that occurs very seldom but always just after the sun sets into the Gulf.
Marco Island Beaches are patrolled and are not available for overnight camping. Don't even think about camping out on Marco Island Beach – the beach patrols are looking out for any unlawful activity, especially just after sunset. Unless you are staying at a beachfront resort or condo you are not permitted to enter Marco Island Beaches after 10:00 pm. Marco Island, and the rest of the 10,000 islands in the Florida Everglades, is an important nesting and migrating area for birds. Wildlife and bird viewing or "birding" is a popular outdoor activity. You should be careful not to disturb island birds and turtles when visiting Marco Island Beaches. Several of the island's birds and turtles are on the endangered species list and fines are imposed for violators. Due to Marco island's important and fragile ecosystem, dogs or pets of any kind are not allowed on any Marco Island Beaches.
CAPE MARCO BEACHFRONT CONDOS
The Cape Marco beachfront condominium homes on South Beach represent some of the most sought-after and luxurious properties in all of Florida. An experienced Marco Island Realtor will arrange for virtual and private showings of these sensational Florida homes. The view and amenities warrant the market price – which can be millions of dollars per unit.


Contact Us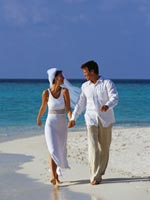 Marco Island Weddings


Fun | Dining | Eco Tours | Fishing

Real Estate | Rentals

Resorts | Pet Friendly